Car Rental Maleme - Monza rent a car Maleme
We will offer you a fleet of cheap car hire Maleme with the highest quality care. Choose the type of vehicle that best suits your needs. Our helpful and friendly staff will deliver your perfect car with quick and simple procedures without queues. Book a car today online without credit card and win from our special offers!
Rent a car Maleme
Information about Car Rental in Maleme
Available Car Types

Economy, Medium, Family, SUV, Jeeps 4χ4, 7/9 seats minivans, convertible, diesel, hybrid, luxury.

Pickup Locations

In every hotel in Maleme or other location of your choice.

Pricing

Desde 12€ / day with Collision Damage Waiver Insurance.

Optional Extras

GPS (8€ / day)
Baby Seat ( 2€ / day )
Included in every Car Rental
Seguro de exención de daños por colisión
Nuevos vehículos seguros
Sin tarifas de cancelación
Seguro contra robo e incendio
Segundo conductor gratuito
Kilometraje gratuito
Responsabilidades de terceros y seguro personal
Todos los impuestos incluidos (IVA, etc.)
Sin costos ocultos
About Maleme in Crete Greece
The historical seaside village of Maleme lies on the northwest coast of Crete, just 18 km from Chania. It is a quiet hamlet, built on small hills between the rivers Tavronitis and Gerani, surrounded by orange trees, vineyards and olive trees.
Maleme is widespread because of the Battle of Crete that was done there during the Second World War. In this battle the Germans firstly captured the Maleme' airport and invaded to the island, but they had suffered large losses in human resources. The German cemetery, on the hill above the village, testifies the magnitude of the disaster. Moreover, in Maleme, the visitor will see one of the most beautiful vaulted tombs of Crete, which dates back to the second Late Minoan period.
The beach of Maleme is large, it has fine sand and pebbles in a few places, and has crystal clear and shallow water. It is partly organized and not crowded, while it provides all kinds of comforts such as sun loungers, umbrellas, changing rooms, showers etc. There is also the possibility of water sports such as Jet Ski, windsurfing, kite surf, tubes, canoe, sup, diving.
In the area there are large hotel units, rooms to let and smaller hotels, economical and not, clean and comfortable, with high quality services, contributing to make your vacation unforgettable and unique. Inaddition, thereareclothingstores, touristshops, fastfood, supermarkets, pharmacies, bakeries, confectioneries, etc.
With a rental car you can either go east to the cosmopolitan seaside villages of Platanias and Agia Marina, and to the enchanting city of Chania, or west to the beautiful villages of Kolymbari and Kissamos. You can also plan day trips, by hiring a vehicle, towards the unique lagoon of Balos, the impressive Falasarna beach, the fascinating Elafonissi, and the small village of Deres to do horseback riding.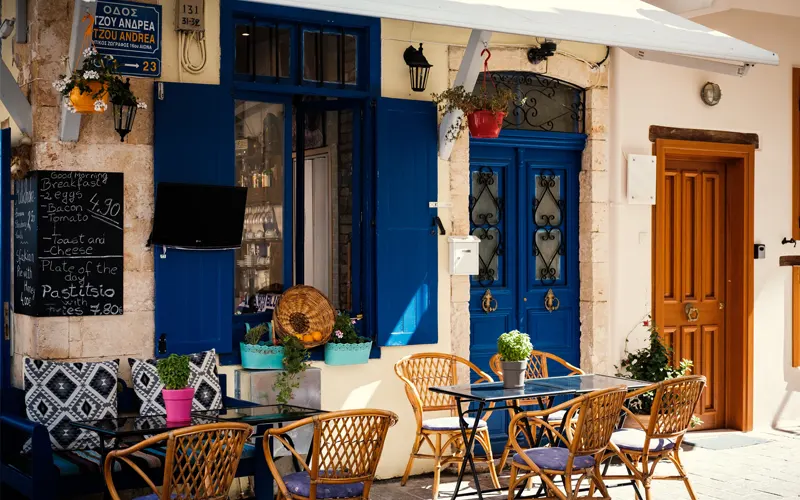 MONZA car hire Maleme has a wide variety of reliable vehicles at very affordable prices to facilitate your travels and explorations. The friendly and qualified staff is waiting to serve you.
Frequently asked questions (FAQs)
about car hire at Maleme
How much does it cost to rent a car at Maleme?
The rental price varies depending on the days you rent the car. The more time period, the cheaper the rental price. Rates start from 9 € / day.
What type of rental car do you suggest me to hire in Maleme?
The best recommended car category for car hire Maleme is  the Medium Family (C ) like Toyota Yaris. It is also suitable for traveling all around Crete.
What is the speed limit in Maleme?
You can drive in the city of Maleme up to 50km as in most cities in Crete and Greece. If you drive on the highway then the speed increases to 90km. Follow the road signs that define you the speed limit.
I don't have a credit card. Can I rent a car?
In case you do not have a credit card, choose full insurance coverage in the insurance options to avoid the amount of excess as a guarantee. Upon pickup of the car, you can pay in cash or with a debit card.
What should be the age of the driver to rent a car?
The driver must be 21 years old with at least 1 year of driving for categories A1, B1, and C. For the other categories, it is 23 and 25 years. Selecting your age in the search form will only show the vehicles you can rent based on your age.
Do I have additional costs for the delivery of the car in Maleme?
You do not have any other fees for the delivery of your rental car in the Maleme area, in the hotel or apartment you stay.