Car Rental Chania Airport - Monza rent a car Crete Airport Chania
We will offer you a fleet of cheap car hire Chania Airport with the highest quality care. Choose the type of vehicle that best suits your needs. Our helpful and friendly staff will deliver your perfect car with quick and simple procedures without queues.
Rent a car Crete Chania Airport with Monza
Information about Chania Airport Car Rental
Available Car Types

Economy, Medium, Family, SUV, Jeeps 4χ4, 7/9 seats minivans, convertible, diesel, hybrid, luxury.

Pickup Locations

In every hotel in Chania or other location of your choice.

Pricing

From 12€ / day with Collision Damage Waiver Insurance.

Optional Extras

GPS (8€ / day)
Baby Seat ( 2€ / day )
Included in every Car Rental
Collision Damage Waiver Insurance
New safe vehicles
No cancellation Fees
Theft & Fire Insurance
Free of Charge Second Driver
Free Mileage
Third Part Liabilities & Personal Insurance
All Taxes Included (V.A.T. etc)
No hidden costs
About Chania Airport of Crete in Greece
It's pretty annoying to confront the hurdles regarding searching a vehicle after landing from a tired long flight. Hence, it's the best idea is to rent car from CHANIA AIRPORT along with your flight reservation. It's quite feasible in a city like CHANIA to facilitate yourself with luxurious and comfortable rental car service. The most appropriate and relaxing decision is to rent a car in Chania airport before living a thrilling vacation or attending a business tour. What an appeasing feeling it is? When you see a great car, waiting for you at Chania airport excitedly. An enjoyable trip can only be possible if you book a competent yet affordable rental car service. MONZA RENT A CAR company has comprehended that it's pretty tricky to get in the hustle and bustle of finding a car after having a tiresome journey. That's why we have come up with prestige car rental services.
We are one of the top car rental companies that provides versatile and budget-friendly rental services in Crete.
Chania Airport:
Chania Airport holds the second busiest air forum in Crete as it is one of the most destined places to visit in Crete. It's connected with Chania and other cities on the island of Crete through various services. The location of Chania airport is 14km away from the city vicinity. This airport specifies that it holds both international and domestic flights. The tenure from April to November carries many international passengers to Chania airport for various purposes. After landing at Chania airport, numerous services are there to utilize to visit the stunning city. These services comprise car rental services in Chania airport, public transport and many more, but all these services have their pros and cons.
Car hire from Chania Airport:
No doubt the services of public transport are viable in Chania in the form of large-scale bus services. It means that you must wait for so long to get on to your desired place in Chania. The unexpected alteration in the bus schedule is also irritating for every person. Hence the best decision is to rent a car and free you from this disturbance. Moreover, tourists' mobilization in the city further put them to face the hurdles while having fun. Car hiring from Chania airport will solve all these queries with MONZA RENT A CAR. Our rental car service will let you see the stunning city of Chania on your conditions and desires with no restrictions at all. The decision to renting a car will allow you prevented from all the perturbation of public transport. Our Bigger cars with compact and clean interior will indeed impart a refreshing impact on your mood.
Location of pick-up:
A straightforward way to get into your booked car is to approach the arrival hall or outside the airport. We have designed our car rental service from Chania airport so that every concerning customer will be satisfied with our punctuality. Your required car will be holding back for our privileged customers with on mark services in the hall specified for rental vehicles. Effective and quick accessibility of the rental car after your arrival will make you feel relaxed. Our company also facilitates you with representatives, which will assist you in every aspect, referring to your expedition and rental services. The purpose is to make sure that the car has handed to the concerned person with all security essentials. Our company has registered itself with the airport authorities. Our office will have full deals to provide their worthy customers with all services regarding rental services.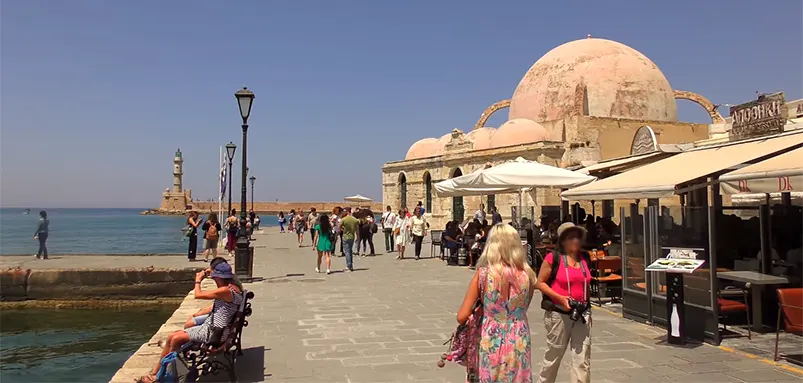 Advantages of renting a car with MONZA RENT A CAR:
The significance of hiring a car from Chania airport for administrating all these marvellous views holds its place in your whole plan. You will be acquiring enormous advantages after getting an affluent car after stepping out of the vehicle.
Our notable customers will have an open choice to choose a car that will suit their taste and comfort level.
There is an approach for every concerning person to have an advance online booking.
Our customer will only require a short amount at the time of booking, and you will be paying the rest amount after delivery.
The clients will also get a comprehensive insurance
The most iconic feature is that we facilitate our customers with a collision damage waiver.
There are no requirements for a credit card at the time of depositing.
Furthermore, our company will accompany you with 24/7 services to make your whole trip tension accessible. Airport car rental service comprises the provision of a range of vehicles with style and affordable rates. Our company will furnish their notable customers with up-to-date beach cars, luxury cars, sports cars, convertibles and much more. We also offer possible deals on rental cars, which will be budget-friendly. Our company is striving to dispense the remarkable services among all other car rental companies. Our company will also demolish the restricted policies as followed by other companies. The rental car service also enables us to use the car on a long term contract basis. These distinct features will surely be going to satisfy our customers with humbly presented services.
Frequently asked questions (FAQs)
about car hire at Chania Airport
How much does it cost to rent a car at Chania Airport?
The rental price varies depending on the days you rent the car. The more time period, the cheaper the rental price. Rates start from 9 € / day.
What type of rental car do you suggest me to hire in Chania Airport?
The best-recommended car category for car hire in Chania Airport is the Medium Family (C ) like Scoda Fabia or Nissan Micra. It is also suitable for traveling all around Crete.
Do I have to pay in advance?
No, you can book today and pay with your arrival at Chania Airport.
What insurance should I choose for my rental car in Chania Airport?
We suggest you to select the comprehensive insurance (Full Collision Damage Waiver) with a small daily cost to avoid unpleasant circumstances. You will enjoy your car rental Chania Airport with peace of mind.
What should be the age of the driver to rent a car?
The driver must be 21 years old with at least 1 year of driving for categories A1, B1, and C. For the other categories, it is 23 and 25 years. Selecting your age in the search form will only show the vehicles you can rent based on your age.
My plans have been changed or canceled. What can I do? Will I pay extra money?
In every of these cases,  you have to inform us by email or phone to reconfirm the availability of you reservation or cancel it. We don't ask for any cancellation fees.