Information about Monza Rent a Car car hire company at Heraklion
We will offer you a fleet of cheap car hire Heraklion with the highest quality care. Choose the type of vehicle that best suits your needs. Our helpful and friendly staff will deliver your perfect car with quick and simple procedures without queues. Book a car today online without credit card and win from our special offers!
Rent a car Heraklion
Information about Car Rental in Heraklion
Available Car Types

Economy, Medium, Family, SUV, Jeeps 4χ4, 7/9 seats minivans, convertible, diesel, hybrid, luxury.

Pickup Locations

In every hotel in Heraklion or other location of your choice.

Pricing

From 12€ / day with Collision Damage Waiver Insurance.

Optional Extras

GPS (8€ / day)
Baby Seat ( 2€ / day )
Included in every Car Rental
Collision Damage Waiver Insurance
New safe vehicles
No cancellation Fees
Theft & Fire Insurance
Free of Charge Second Driver
Free Mileage
Third Part Liabilities & Personal Insurance
All Taxes Included (V.A.T. etc)
No hidden costs
About Heraklion in Crete Greece
Travel Tips & Advice in Heraklion
Heraklion is the largest city in Crete and its capital. It is a beautiful metropolis, and constitutes the economic, commercial and scientific center of the island.   It also holds a strategic geopolitical position in the Mediterranean, linking three continents and many different cultures. The International Heraklion Airport is only 6km for away. Choose our rental company Monza ® for car hire Heraklion Crete and explore with ease.

There are too many wonderful places in Heraklion to visit with a rental vehicle. If you go to Heraklion downtown, kindly be careful the place you park. There are a few streets in Heraklion City where car parking is allowed.  In our rental car services, we operate call center so if you need an assistance we always are willing to help you. Hiring  a car in Heraklion, picking-up can be in your hotel or apartment in time you desire.
As a tourist in Heraklion, the best way to  find the cheapest car is to book in advance. In our car rental reservation, there is no cancellation or amendment fees and no credit card needed for booking.
Rent a car Heraklion and get the cheapest car hire with Monza. We will offer you the possibility of enjoying a top car of our wide range of vehicle groups in latest models (from econmy to luxury cars).
Top places of interest in Heraklion
It is worth car hire Heraklion and start touring the beautiful city. So, important sights that you should visit are the archaeological site of Knossos, which it was the most important center of the Minoan civilization, the imposing Koules fortress with the old Venetian harbor, the 25th Augustus pedestrian street with the magnificent neoclassical buildings, the impressive church of Agios Titos, the Venetian Loggia and the Basilica of St. Mark in which the Municipal Art Gallery is housed. Also, the Archaeological Museum of Heraklion, the Museum of Natural History and the Historical Museum of Crete are places of particular interest for each visitor.
In addition, you can walk from Eleftherias Square, crossing Daidalou' commercial pedestrian street, towards the Lion's Square with the Morozini Fountain, and continue to 1866 street where is the Herakleion Market and the Bebo Fountain, ending up in the majestic temple of Saint Minas. Finally, it is beautiful to cross the old Walls of the city and go to the tomb of the great Cretan writer Nikos Kazantzakis.
Renting a car in Heraklion, you have the flexibility to explore the beautiful neighborhoods such as Amoudara, Gazi, etc, the coastal front of the city, or visit some of the nearby beaches such as Karteros, Tobrouk ,Kokkini Hani, Paleokastro, etc. Additionally, you can trip to the nearby villages of Archanes, Tylissos, Gouves, Agia Pelagia, or visit the fantastic Cretan Aquarium "Thalassokosmos" and the impressive Theme Park "Dinosauria". You can also get a rented car for Heraklion Port which is very close to Heraklion City.
MONZA car hire Heraklion can guarantee you very affordable prices with car rental discounts to facilitate your travels and explorations. The friendly and qualified staff is waiting to serve you.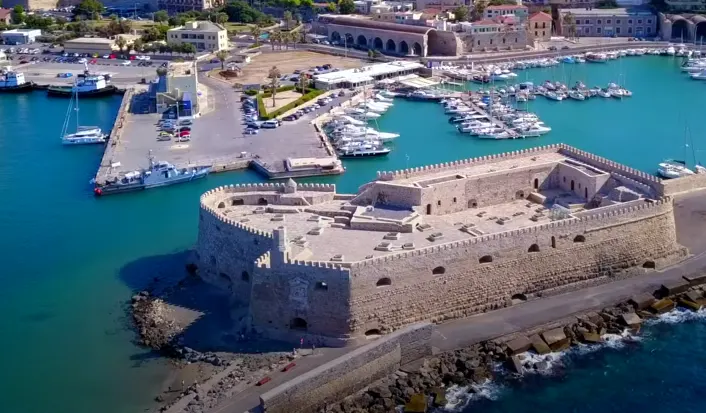 Frequently asked questions (FAQs)
about car hire at Heraklion
How much does it cost to rent a car at Heraklion?
The rental price varies depending on the days you rent the car. The more time period, the cheaper the rental price. Rates start from 9 € / day.
What type of rental car do you suggest me to hire in Heraklion?
The best recommended car category for car hire Heraklion is  the Medium Family (C ) like Toyota Yaris. It is also suitable for traveling all around Crete.
What is the speed limit in Heraklion?
You can drive in the city of Heraklion up to 50km as in most cities in Crete and Greece. If you drive on the highway then the speed increases to 90km. Follow the road signs that define you the speed limit.
I don't have a credit card. Can I rent a car?
In case you do not have a credit card, choose full insurance coverage in the insurance options to avoid the amount of excess as a guarantee. Upon pickup of the car, you can pay in cash or with a debit card.
What should be the age of the driver to rent a car?
The driver must be 21 years old with at least 1 year of driving for categories A1, B1, and C. For the other categories, it is 23 and 25 years. Selecting your age in the search form will only show the vehicles you can rent based on your age.
Do I have additional costs for the delivery of the car in Heraklion?
You do not have any other fees for the delivery of your rental car in the Heraklion area, in the hotel or apartment you stay.