Car Rental Elounda Crete - Monza rent a car Elounda Crete
We will offer you a fleet of cheap car hire Elounda Crete with the highest quality care. Choose the type of vehicle that best suits your needs. Our helpful and friendly staff will deliver your perfect car with quick and simple procedures without queues. Book a car today online without credit card and win from our special offers!
Rent a car Elounda Crete
Information about Car Rental in Elounda Crete
Available Car Types

Economy, Medium, Family, SUV, Jeeps 4χ4, 7/9 seats minivans, convertible, diesel, hybrid, luxury.

Pickup Locations

In every hotel in Elounda Crete or other location of your choice.

Pricing

From 12€ / day with Collision Damage Waiver Insurance.

Optional Extras

GPS (8€ / day)
Baby Seat ( 2€ / day )
Included in every Car Rental
Collision Damage Waiver Insurance
New safe vehicles
No cancellation Fees
Theft & Fire Insurance
Free of Charge Second Driver
Free Mileage
Third Part Liabilities & Personal Insurance
All Taxes Included (V.A.T. etc)
No hidden costs
About Elounda in Crete Greece
The town of Elounda is an exotic luxury destination of Crete, offering beautiful natural beauty and special and unique beaches.
Before many years, Elounda was a picturesque fishing village of the beautiful bay of Mirabello. Its inhabitants were engaging in fishing, agriculture, salt production from the Venetian salt pits, and the mining of the aconeopetra. Aconeopetra is kind of fine-grained emery that helps to create the grindstone, which is used to sharpen the tools.
Over the years, the development of tourism has also affected Elounda, which has evolved into a famous resort with many luxurious hotel complexes, and as a result of it, is being attracted every year by personalities of the international economic, political, athletic and artistic elite. These hotels offer a lot of renders and amenities that will amaze every visitor. So, they have villas and suites of all types in a modern or classic line, swimming pools, golf courses, tennis, basketball and soccer, spa, private beaches and marinas, gourmet restaurants etc.
By renting a car and coming from Agios Nikolaos, the route will fascinate you with the unparalleled view and beauty, overlooking the bay of Mirabello, the lagoon of Elounda and the peninsula that is formed, and in the background the picturesque village of Plaka with its island Spinalonga opposite.
Next to the port of Elounda, there is the settlement of Skisma with its homonymous beach, which is sandy with crystal clear waters. It is fully organized, offering loungers with umbrellas, showers, lifeguard services, beach volleyball courts, playground, cafes, taverns, restaurants, water sports etc. To the east, you will find the second very beautiful and organized beach, called Xiona or Poros. If you continue on a wonderful route between the historic windmills and the picturesque bridge, you will pass the old salt marshes and reach the small church of Agios Loukas. From there, you can follow a path, leading to the magnificent and secluded beach of Kolokytha.
Visitors can tour to the small beaches of the area, such as Plaka, Driros and Agia Marina, with a rental car, enjoying stunning views towards the island of Spinalonga and the bay of Elounda. Alternatively, they can explore the surrounding mountainous villages, such as the beautiful abandoned village of Havga and the traditional villages of Kasteli and Fourni, or visit the magnificent historical monastery of Aretios.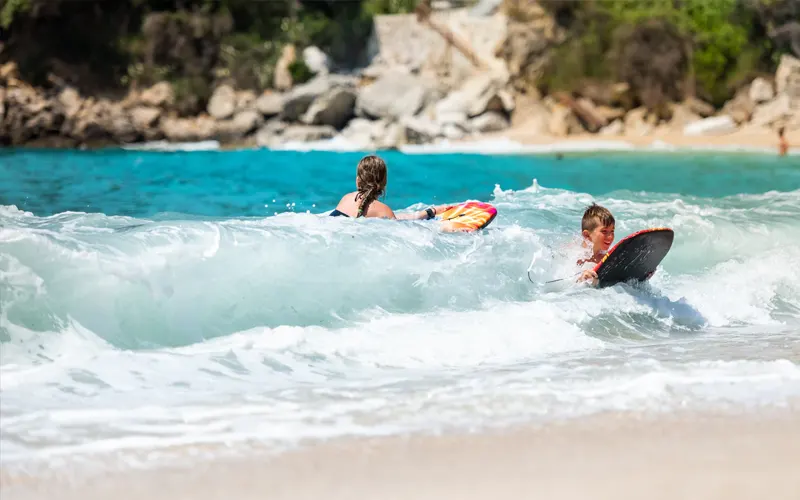 MONZA car hire Elounda Crete has a wide variety of reliable vehicles at very affordable prices to facilitate your travels and explorations. The friendly and qualified staff is waiting to serve you.
Frequently asked questions (FAQs)
about car hire at Elounda Crete
How much does it cost to rent a car at Elounda Crete?
The rental price varies depending on the days you rent the car. The more time period, the cheaper the rental price. Rates start from 9 € / day.
What type of rental car do you suggest me to hire in Elounda Crete?
The best recommended car category for car hire Elounda Crete is  the Medium Family (C ) like Toyota Yaris. It is also suitable for traveling all around Crete.
What is the speed limit in Elounda Crete?
You can drive in the area of Elounda Crete up to 50 km as in most cities in Crete and Greece. If you drive on the highway then the speed increases to 90 km. Follow the road signs that define you the speed limit.
I don't have a credit card. Can I rent a car?
In case you do not have a credit card, choose full insurance coverage in the insurance options to avoid the amount of excess as a guarantee. Upon pickup of the car, you can pay in cash or with a debit card.
What should be the age of the driver to rent a car?
The driver must be 21 years old with at least 1 year of driving for categories A1, B1, and C. For the other categories, it is 23 and 25 years. Selecting your age in the search form will only show the vehicles you can rent based on your age.
Do I have additional costs for the delivery of the car in Elounda Crete?
You do not have any other fees for the delivery of your rental car in the Elounda Crete area, in the hotel or apartment you stay.