Car Rental Heraklion - Monza rent a car Heraklion Airport
We will offer you a fleet of cheap car hire Heraklion Airport with the highest quality care. Choose the type of vehicle that best suits your needs. Our helpful and friendly staff will deliver your perfect car with quick and simple procedures without queues. Book a car today online without credit card and win from our special offers!
Rent a car Heraklion Airport
Information about Car Rental in Heraklion Airport
Available Car Types

Economy, Medium, Family, SUV, Jeeps 4x4, 7/9 seats minivans, convertible, diesel, hybrid, luxury.

Pickup Locations

Heraklion Airport – In our rental station only 2 min away from the arrivals gate.

Pricing

From 12€ / day with Collision Damage Waiver Insurance.

Optional Extras

GPS (8€ / day)
Baby Seat ( 2€ / day )
Included in every Car Rental
Collision Damage Waiver Insurance
New safe vehicles
No cancellation Fees
Theft & Fire Insurance
Free of Charge Second Driver
Free Mileage
Third Part Liabilities & Personal Insurance
All Taxes Included (V.A.T. etc)
No hidden costs
About Heraklion airport in Greece
"Nikos Kazantzakis" International Airport of Heraklion is located in the NeaAlikarnassos area of ​​the Municipality of Heraklion, about 5 kilometers east of the city center. The airport took its name from the Cretan writer Nikos Kazantzakis, who was born in Heraklion and is considered the greatest Greek writer of the modern years. One of the most comfortable ways to car hire Heraklion Airport Crete is Monza. 
The airport was first built in 1937, renovated in 1953 with the completion of a new corridor, and since 1971 it has been operating in new buildings. The same year was made the first flight from abroad, while recently (2018) there were works of expansion, refurbishment and configuration of airport spaces for the benefit of tourists – visitors. Today it is the second important and busy airport in Greece, after El. Venizelos of Athens.
It serves many flights, domestic or international, to and from different destinations, as well as flights with private aircraft and charter flights. In addition, at the airport are active different organizations, such as terrestrial services and aircraft maintenance services, aero clubs and schools of pilot. 
"N. Kazantzakis" Airport is a modern and spotless airport, which meets all the requirements and specifications for the service of visitors and tourists. It has large and comfortable waiting rooms, official vip halls, toilets for babies and baby care room, luggage service, clinics, customs, restaurant, cafes, duty free shop, etc. It  is also technical organized, due to existing infrastructure such as the control room, state-of-the-art security and fire-fighting systems, security services, fire brigade station, boiler rooms, proper signage, etc., which make the airport safe and accessible.
The airport has comfortable car parking, while there is also the possibility of hiring a vehicle to explore the beautiful city of Heraklion. In addition, with a rental car, you can visit popular archaeological sites and museums, wonderful beaches, picturesque villages, beautiful cities, landscapes of natural beauty, monasteries and attractions of the wider region.
MONZA RENT A CAR has a wide variety of reliable vehicles at very affordable prices to facilitate your travels and explorations. The friendly and qualified staff is waiting to serve you.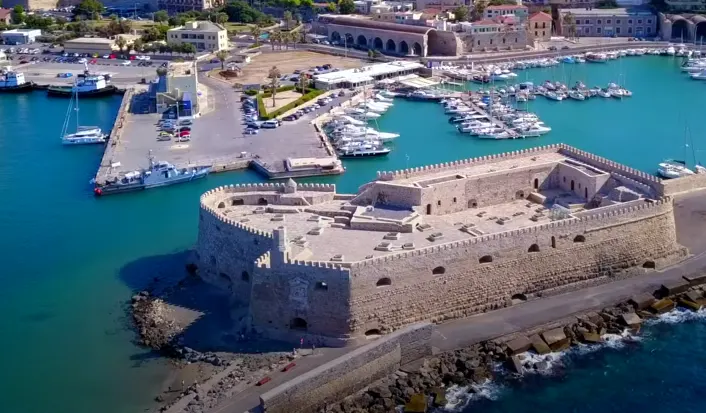 Frequently asked questions (FAQs) about car hire at Heraklion Airport
How much does it cost to rent a car at Heraklion Airport?
The rental price varies depending on the days you rent the car. The more time period, the cheaper the rental price. Rates start from 9 € / day.
What type of rental car do you suggest me to hire in Heraklion Airport?
The best-recommended car category for car hire in Heraklion Airport is  the Medium Family (C ) like Scoda Fabia or Nissan Micra. It is also suitable for traveling all around Crete.
Do I have to pay in advance?
No, you can book today and pay with your arrival at Heraklion Airport.
What insurance should I choose for my rental car in Heraklion Airport?
We suggest you to select the comprehensive insurance (Full Collision Damage Waiver) with a small daily cost to avoid unpleasant circumstances. You will enjoy your car rental Heraklion Airport with peace of mind.
What should be the age of the driver to rent a car?
The driver must be 21 years old with at least 1 year of driving for categories A1, B1, and C. For the other categories, it is 23 and 25 years. Selecting your age in the search form will only show the vehicles you can rent based on your age.
My plans have been changed or canceled. What can I do ? Will I pay extra money?
In every of these cases,  you have to inform us by email or phone to reconfirm the availability of you reservation or cancel it. We don't ask for any cancellation fees.