A rough mountainous landscape of remote plateaus and impressive gorges reaches all the way down to the sea to create one of the most spectacular coastlines in the Mediterranean Sea. This is southern Chania (Need to rent a car in Chania? Click Here), a region ideal for travelers, who want to discover the off-the-beaten-track side of Crete and meet authenticity in a wild scenery. Rent a car in order to enjoy the greatest opportunity and explore a hidden paradise of untouched villages and exotic beaches.
A hard-to-reach rugged area surrounded by gorges and steep cliffs, Sfakia, inside the White Mountains, is perfect for hiking and swimming at its magical beaches. The plateau of Askyfou should be your first stop if you approach from the north, and it is comprised by five villages, the biggest of which is Ammoudari. One of the most popular activities in the region is hiking or horse riding through the Imbros Gorge, which is one of the deepest gorges in Crete.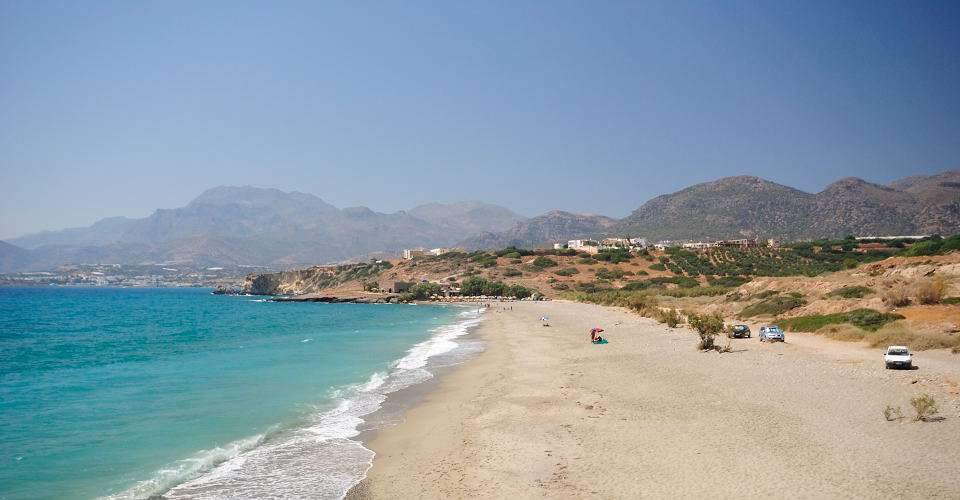 East of the main town of Sfakia, you can go to Leska, a sensational beach with pebbles, accessible by boat from Koutelos, another calm and windless beach. A rock on the western side of the bay separates it from Pera Koutelos, a small cove, ideal for visitors seeking isolation. Move on to Frangokastello, a large beach with golden sand, shallow emerald waters and a fortress from the 14th century as a landmark.
From Chora Sfakion (city center), you can go westwards to the unspoiled villages inside the mountain range. Anopoli and Livaniana are the most beautiful and traditional settlements, from where you can reach Lykos and Foinikas beaches. Aradena is an abandoned settlement with just a few houses near a gorge of unique beauty under a modern metal bridge. From this bridge, you can make the highest bungee jumps in Greece. Don't miss the beaches of Ilingas with its crystal-clear waters and thick sand. Next up, Glyka Nera, a large bay with huge rocks, and last the sea caves at Marmara.
Paleochora is an enchanting town with natural beauty and authentic atmosphere. Gialiskari nearby is a superb two-sided beach. Lissos Beach is located on the site of an ancient city with the same name. Next up is Domata, an undiscovered beach with a pine forest behind it, while Kalogeros has a large cave offering shade.
Agia Roumeli is a coastal village at the mouth of Samaria Gorge. From there, you can reach by boat or via a trail the amazing Agios Pavlos beach with its dark sand and small pebbles. Grammeno peninsula has two sandy beaches with cedars and dunes, while Viena Beach has a natural seawall of rocks that makes it seem more like a lake. A seaside trail links Kedrodasos, the forest with cedars, dunes and white sand, to Elafonisi, the renowned beach with the pink sand and the narrow strip of land that connects the beach with a small island.