The beautiful islet of Gavdos lies southern of Crete. It is a small island ideal for relaxation, tranquility and isolation. Gavdos is a hidden paradise with fantastic beaches giving an amazing sense of freedom and simplicity.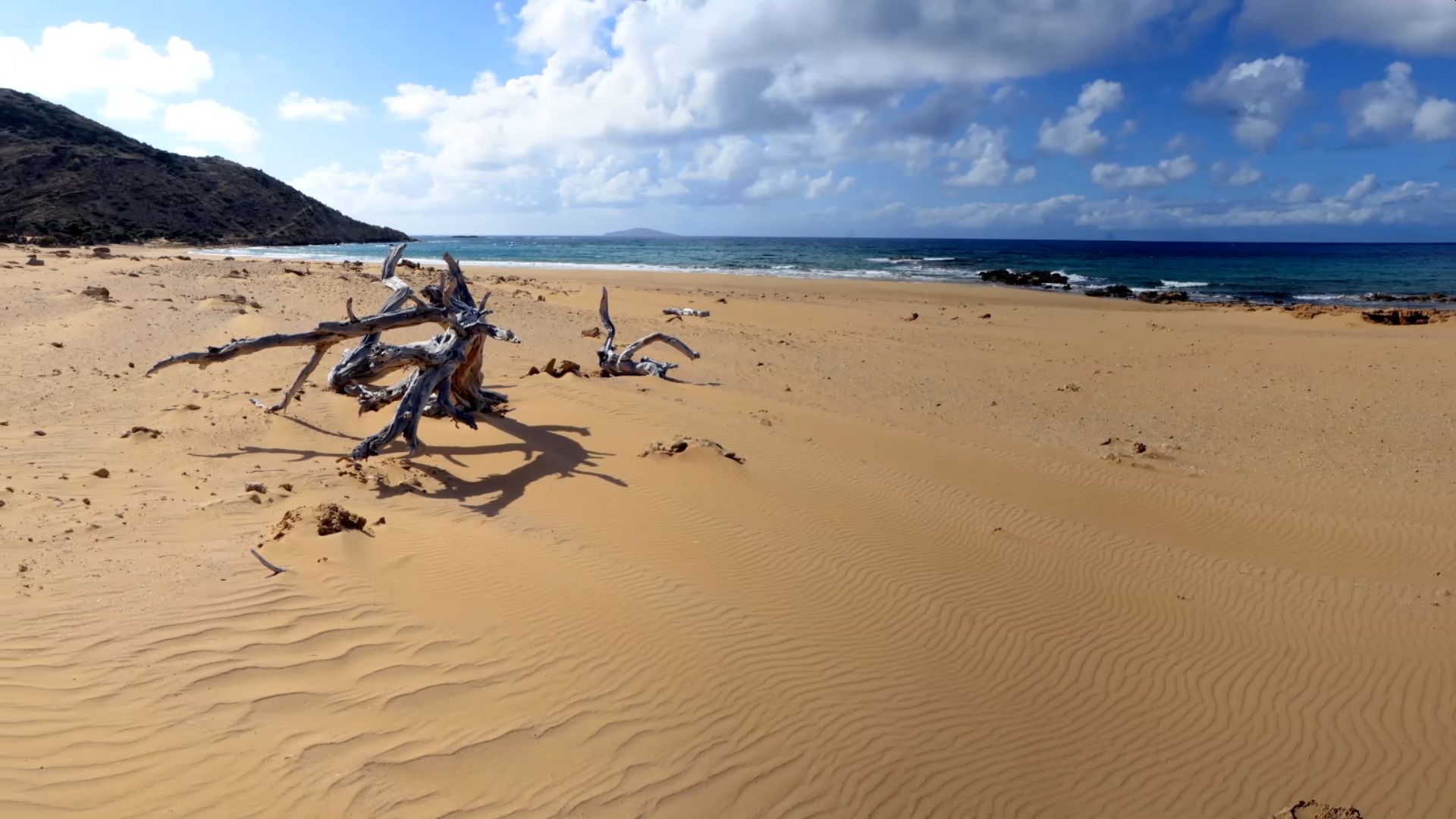 According to mythology, Gavdos is the island where the nymph Calypso held captive Odysseus for several years, who had shipwrecked, with the promise of eternal youth. Furthermore, if you ask a habitant, you can go and see Calypso's "Palace", which is near a cave. Archaeological finds indicate that the island was inhabited by the Neolithic Age, and flourished during the Roman and Byzantine periods.
To get to Gavdos you have to rent a car from the big urban centers of Crete, then head towards Paleochora, Sougia or Chora Sfakion, and from there take a ferry that will transfer you to the island. The unique harbor, on which ships anchor, is "Karave". Here there is a picturesque coffee shop, a few houses, some rooms for rent, a tavern, while next to it, is a small non organized beach with sand and pebbles, crystal clear and quite deep water. Moreover, taking the public mini bus or with your vehicle, you can go to other settlements and beaches of the island. Many parts of the island are suitable for free camping but you should take care to protect the flora and fauna of the island and show the necessary respect for the environment.
All the beaches of Gavdos are magnificent with crystal clear turquoise waters, seductive beaches with fine sand and pebbles, cedar trees offering wonderful shade, giving you the opportunity to enjoy spectacular views, breathtaking sunrises and dreamy sunsets. Some beaches can be reached by car, while others can be reached by boat or walking. Tripiti, Sarakiniko, Agiannis, Potamos are some of many majestic beaches that there are in the island and worth a visit.
The beach of Tripiti is the southernmost point of Europe and the access to it becomes by foot or boat. It is a wonderful landscape with sand and pebbles, while in the sea there are three large natural arches, known as "Karamelles", because of which the beach was named Tripiti. Over Karamelles there is a giant chair, the trademark of the place, on which you can climb and admire the Libyan Sea, while taking commemorative photos.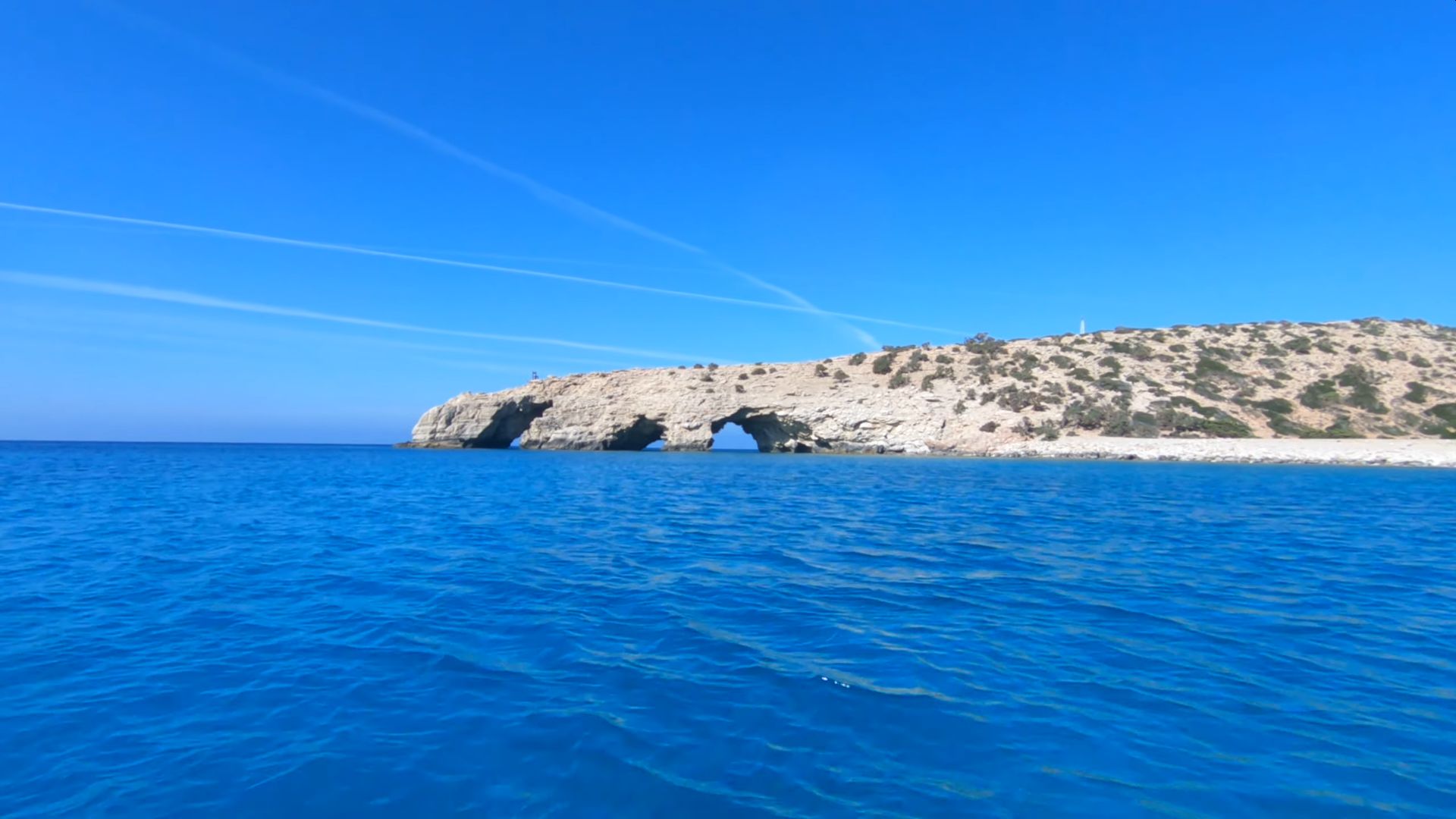 Sarakiniko beach is almost ten minutes by bus from the port. It is a sandy beach with shallow water, against the backdrop of a wild landscape with sand dunes and cedars. Here there are a few rooms to rent, taverns and a mini market. Agiannis is another beautiful and isolated beach with sand dunes, pines, cedars and rocks, while at a hill over there, is the homonymous chapel of St John, giving at the area an idyllic image. Crossing a path, easily accessible, along a small gorge that starts from the settlement of "Ambelos", you will find the beautiful Potamos beach. It is featured by red sand, fantastic waters and plenty of cedar and pine trees, while clay rock formations around the beach are impressive.
Gavdos has a few remarkable and picturesque settlements, such as the capital of island Kastri, the beautiful Ambelos and Vatsiana, the port of Karave, where at all these settlements you can see stone houses and gardens with a lot of flowers. At the beauties of the island are included the numerous chapels that are scattered around, while worth visiting the historic Lighthouse of Ampelos, the Venetian Castle at Kefali and the small Folklore Museum.
For food, here you will surely eat fresh fish, delicious octopus salad and tasteful squids. You will also eat omelets with fresh eggs and "Ntakos" a special Cretan dish. Do not miss to try the amazing custard filled pastry called "galaktompoureko" and traditional pies.
Gavdos has many trails and is ideal for hiking trips, while is also a protected Natura 2000 islet, since many migratory birds pass through from here, is a refuge for the Caretta-Caretta turtle and the Mediterranean seal Monachus-Monachus, and has also significant flora, so you should be careful, with respect and dignity to the island's environment.