The beautiful island of Crete is a popular tourist destination for all tastes. So in addition to enjoying your vacation at sea or mountain, walking in canyons and trails, visiting important archaeological sites and picturesque villages, having fun in beautiful cities, it offers alternative tourism such as sports tourism.
A great suggestion for windsurf enthusiasts are the fantastic beaches of "Kouremenos" in eastern Crete and "Falasarna" in western Crete.
Kouremenos Beach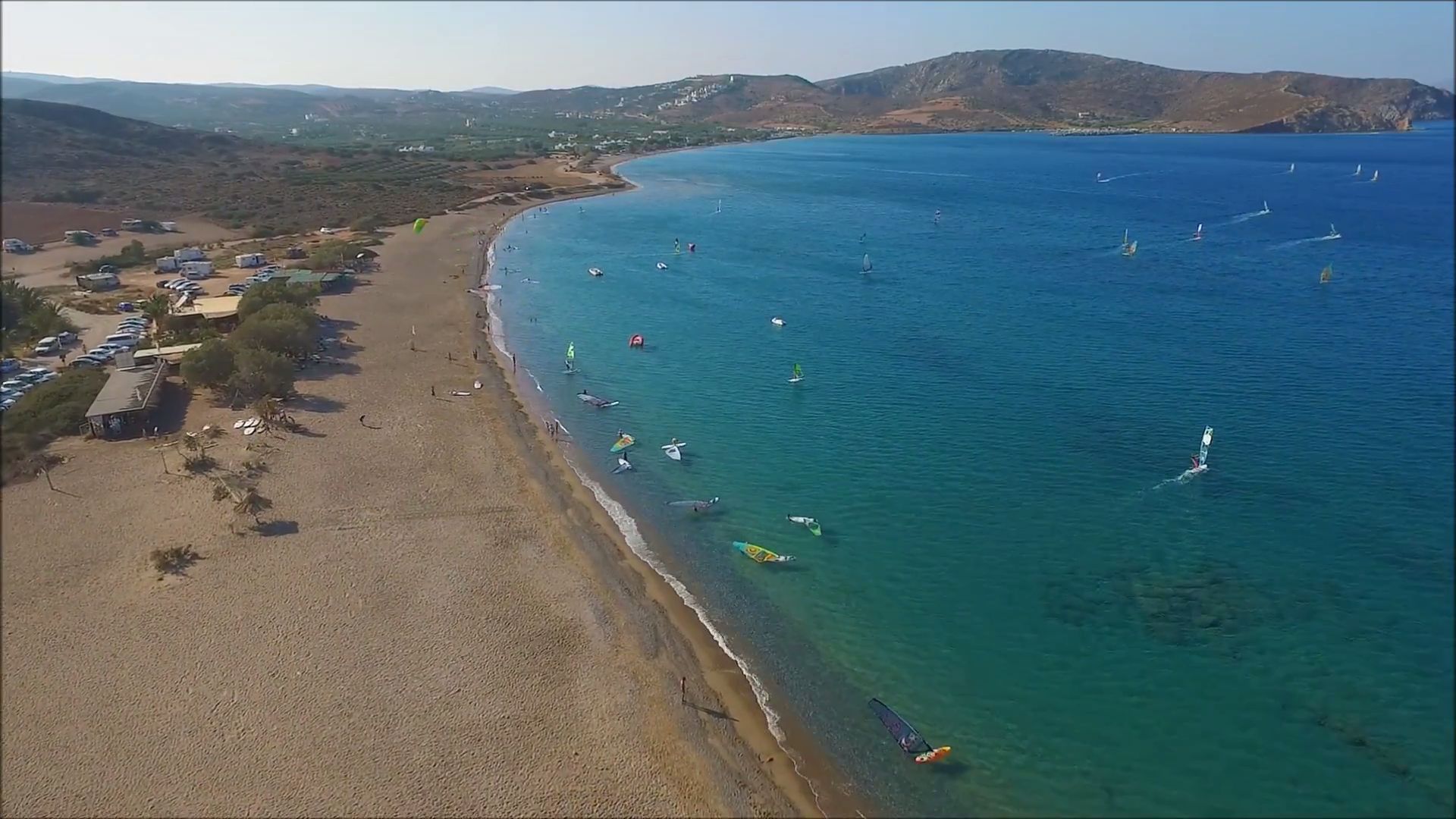 Kouremenos is a magnificent beach which stretches about 2 kilometers, is the largest in the area and you can go there by rental car from the town of "Sitia", about 25 minutes on the road, or from "Ierapetra", about 1 hour. It has fine brown sand, plenty of small pebbles and crystal clear shallow water.
The main feature of this beach is the winds that blow almost all year round, making it accessible to lovers of windsurf  and kitesurf. This happens because the winds, which are mainly northwest oriented and called "meltemia", are joined and amplified by the local 'thermal' effect of the hot summer, causing an increase in the air volume of approximately 2 Beaufort throughout the area.
So while the force of wind on another beach in eastern Crete may be, for example, 2 Beaufort, at the beach of Kouremenos will be 4 to 5 Beaufort, favoring windsurf enthusiasts. Thus, here the wind force is stably between 4 and 7 Beaufort, while during the summer season, the average wind force is approximately 6 Beaufort, making Kouremenos one of the most famous spot in Europe for surfers.
The beach is ideal for both beginners and advanced windsurfers, while the better sail size that is being proposed to use is 4.5 – 5.3 meters. For the beginners who have to learn near to the beach, the water is flat and suitable for planning moves as well as freestyle. Moreover, shallow water and sand will help you to start learning windsurf with the fairly easy technique "beach start", which can gradually lead you to the next level, the technique of the "water start", while there are a lot of buoys, helping the lessons.
Although the beach is beaten by strong winds, there is no ripple in the shallow waters, so the swimmers can enjoy the sea. It is also organized in some places with sunbeds and umbrellas, showers, changing rooms, toilets, beach bar, canteens, while there are two learning schools for windsurf, kitesurf, sup, canoe etc.
Finally in the area, you will find quaint villages where you can rent rooms to stay or visit traditional taverns to taste the authentic Cretan cuisine and drink the infamous "Raki".
Falasarna Beach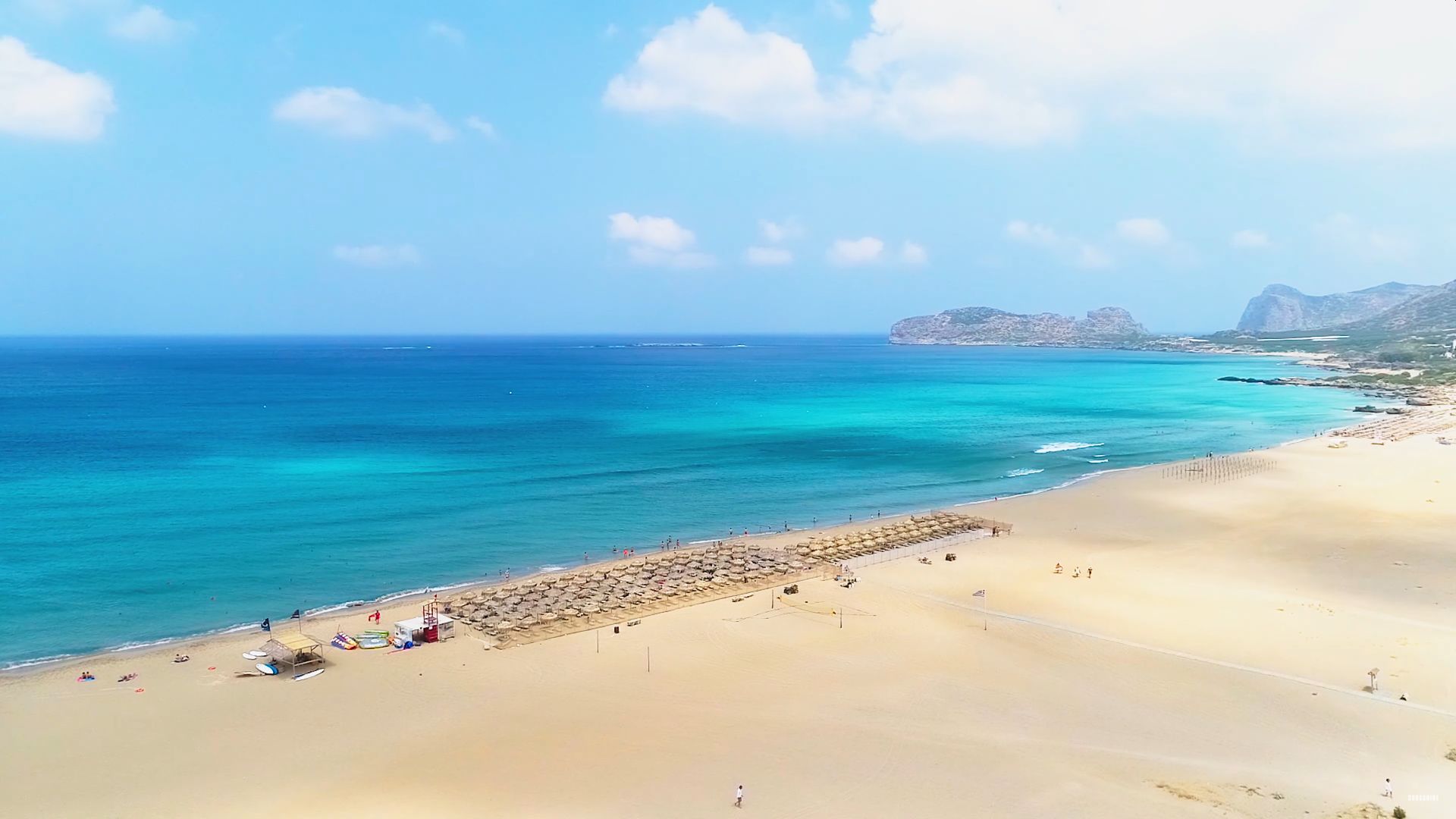 The fantastic beach of Falasarna lies at the west coast of Crete, almost 60 kilometers far away from the cosmopolitan city "Chania". It is one of the most popular beaches in Europe, both for its sand, sea, the beauty of the place, the amazing sunset, and for water sports activities.
Thus, Falasarna beach is characterized by fine golden sand and crystal clear waters with a turquoise color at the sea, surrounded by a green wild landscape, offering a magic atmosphere at the area.
But the unique feature of the beach of Falasarna is that it is a great pole of attraction for water sports lovers, especially windsurfers and kite-surfers, due to the strong winds that blow several days a year.
So, when the wind is west or northwest, reaching winds' force up to 7 Beaufort, there are waves from 0,5m to 2m high, create the ideal conditions for anyone who wants to make the first steps in wave riding, but also for advanced athletes to have fun or training. Furthermore, there is a large free space at the beach for someone who wants to make slalom and freeride surf, and there is another small beach with a bump and jump onshore area for those who look for more waves.
International and national windsurfing races, sup and surf races and others athletics events, are held every year here. In addition, the beach is organized with sun lounges and umbrellas, changing rooms, showers, lifeguard's service, beach bars, canteens, mini market etc, while at the surrounding area you will find rooms or hotels to rent.
It is really worth, by hiring a car, to visit Falasarna and spend beautiful moments that will make your holiday unforgettable.