Ierapetra is a small town in the southern side of the Greek island Crete, in the prefecture of Lassithi, whose capital is Agios Nikolaos. It overlooks the Libyan Sea, has very good weather all-year long, and it is definitely an off-the-beaten-track choice for those wanting something different, a journey away from mass tourism.
Sites and what to do
The best sites in Ierapetra are the Ottoman Mosque in Kato Mera and the Venetian Kales Fortress, which is built in the 13th century by the Venetians in order to protect the city from its enemies. From there, you have a magnificent view of the sea and the port. Worth visiting are also the Church of Afentis Christos, which was built in the 14th century and still holds to the custom of burning an effigy of Judas at Easter. You can also visit the Ottoman School, which was built in 1899 and is now home to the Archaeological Collection of Ierapetra, where you can see the wonderful statue of ancient goddess Persephone in a veil. Walking around the labyrinth-like streets of the city as well as the sea promenade is a lovely experience. We recommend you eating at a traditional Greek tavern, where you can enjoy fresh fish and seafood accompanied by ouzo.
Excursions
The wider region of Ierapetra is very interesting, and the natural beauty of the landscape is just breathtaking. From Ierapetra, you can do many excursions to enjoy this beauty. Myrtos is a picturesque seaside village, but there are also many mountainous villages, such as Anatoli, Oreino and Agios Ioannis, where you will admire Lassithi's landscape. Mount Thrypti near Ierapetra has the famous Ha Gorge, one of the best-known gorges in Crete, where you can do climbing or hiking. If you want to get familiar with the Minoan civilisation, which flourished on the island in the 3rd and 2nd millennium B.C., then visit the Minoan settlement of Gournia, which is one of the most important archaeological sites in Crete, located just 15 km from Ierapetra.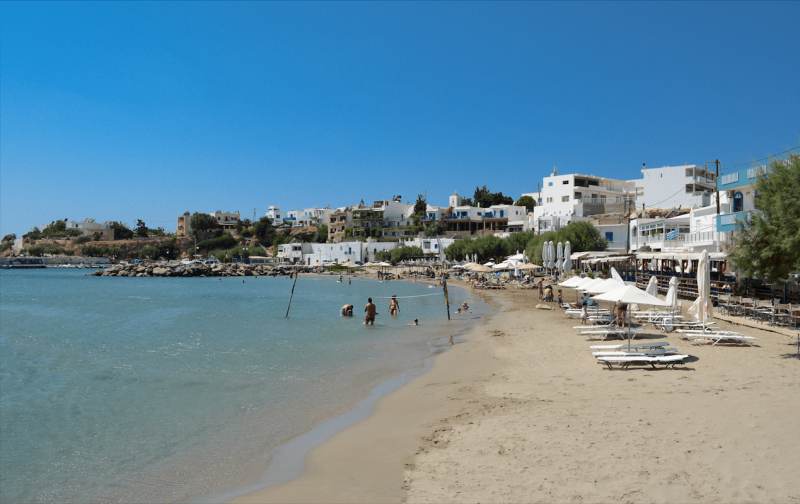 Beaches
Around Ierapetra, you can admire astonishing beaches and swim in crystal waters. The islet of Gaidouronissi, which is included in the European Union's Natura 2000 network of protected areas, has emerald waters and stunning beaches. You can go to Gaidouronissi from Ierapetra by boat or caique. The top beaches around Ierapetra are Agia Fotia, Peristera, Myrtos and Tholos. However, there are many undiscovered, secluded small coves that can be discovered by exploring the whole coast and offer a more private experience in the waters of the Libyan Sea.
If you visit Ierapetra, we highly recommend you to rent a car in order to explore the wider area and enjoy the natural and historical beauties of Lassithis prefecture away from the crowds!