Matala is a small seaside town in the southern side of Crete, overlooking the Libyan Sea. It is a place that combines relaxing holidays with top historical sites, a legendary place that offers you a travel back in time. With great touristic facilities, exotic beaches and small coves, Matala is a resort for those seeking something different but at the same time beautiful and interesting.
The hippies' place
Back in the 60's, Matala became famous around the world because hippies came here from all over Europe to live in the celebrated caves of Matala, next to the beach. Today, Matala is no longer what was in the 60's and 70's, the little village that attracted travellers and signers, who were partying at Woodstock before getting there. Today, the Flower Children are old people that have given their place to thousands of tourists from all over the world, who come here to see the mythical place, remember the past glamour and spend calm times together with their friends or family.
Authentic village nearby
Matala is nowadays a modern town that has not kept its authentic character. However, it is really pity to leave Crete without having visited some of its renowned well-preserved villages, hidden inside the green mountains, behind steep cliffs, near gorges or by the sea. Matala is located in a close distance to such villages, for example Sivas and Kamilari. We recommend you to rent a car and discover the wider region with its well-hidden gems.
Stunning beaches
The beach of Matala is a wonderful place. It has not only the hippies' caves, which are of course very impressive and ideal for lots of photos, but also emerald calm waters, golden thick sand and top touristic facilities. Near Matala, you can swim on the beaches of Kokkini Ammos (=Red sand) and Kommos, which are also astonishing. Remember that Matala overlooks the Libyan Sea, which means that its beaches are exotic giving you a taste of swimming near Africa.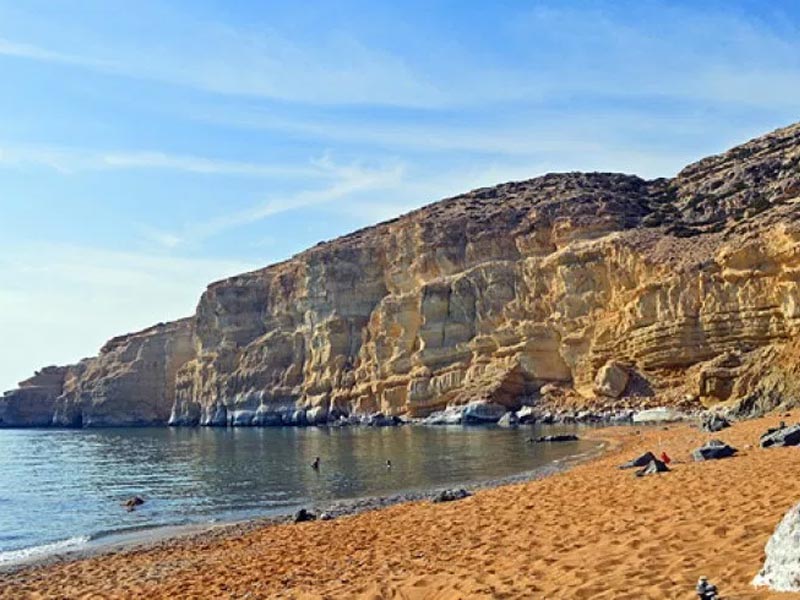 Historical sites
Very close to Matala, is located Phaistos, the renowned Minoan Palace, which is the second-largest in Crete after Knossos. You can also visit Agia Triada, a Minoan villa, as well as the ancient city of Gortys to get familiar with the spectacular history of Crete. If you rent a car, you can easily discover not only these sites but also Knossos, which is located in a short distance to Heraklion.
To get to Matala, you have to drive less than one hour (70 km) from Heraklion to the southern side of Crete. From Chania, you need two hours, while from Rethymno about one hour. The road to Matala, one of the major tourist resorts in Crete, is good and safe.