Hersonissos is located in a close distance to the capital of Crete, Heraklion. It is the largest tourist resort on the island, ideal for those loving fun, touristic facilities and long exotic beaches with beach bars, water-sports facilities and thousands of young people. Don't visit Hersonissos if you prefer calm and quiet vacation away from the crowds. There are other beautiful places in Crete to do so. Read here all the reasons to visit Hersonissos and get ready for next summer!
All-inclusive hotels
Hersonissos has numerous luxury as well as budget all-inclusive hotels that offer you everything you may ask. Restaurant, bar, pool and sea view, while some of them are located at the beachfront giving you the opportunity to spend you whole day by the sea. However, we recommend you to leave your hotel for some hours and explore the amazing sites that are situated close to Hersonissos and are definitely worthwhile.
Nightlife
Hersonissos is the ultimate place in Crete for young travellers, who want to spend crazy nights thanks to its wild nightlife. People from all over Europe come to have fun in the beach bars and clubs of the town that offer alcohol at low prices and organise parties with world-class DJ's. Party begins on the beaches and continues until the dawn in the clubs inside the town.
Family-friendly holidays
Hersonissos is perfect not only for youngsters, but also for families. It has many family-friendly hotels, and its beaches are fully organised with great touristic facilities and water-sports amenities. In a short distance, is located the Cretaquarium, the biggest aquarium in Greece with thousands of sea species. There are also two water parks that children will love.
Exotic beaches

In the area of Hersonissos, you can find long organised beaches with golden sand and turquoise waters. Hersonissos Beach, Stalis and Limanakia are only some of the beautiful beaches, where you can relax, swim and sunbathe or have fun with the other tourists. They also have shallow waters, being ideal for kids.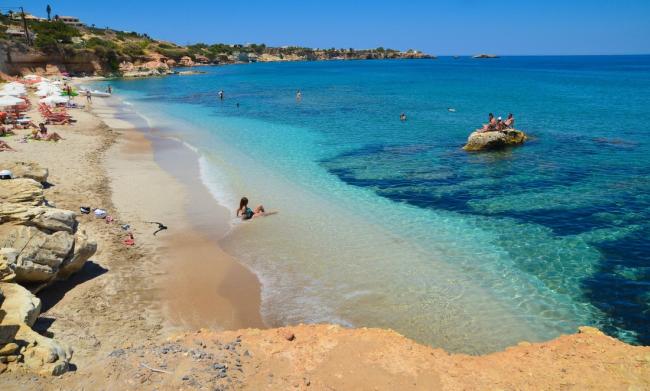 Interesting sites
Hersonissos is located in the prefecture of Heraklion, in the middle of the island and centre of the Minoan civilisation. Thus, don't miss visiting the most important historical sites in the region, Knossos and Phaistos with their magnificent Minoan palaces. Worthwhile is also the Archaeological Museum in Heraklion, where you can admire some of the most significant exhibits from the Minoan Times.
If you want to go to Hersonissos, you can rent a car from Heraklion Airport, and you will be there in about 15 minutes (20 km). From Rethymno, you need about 2 hours by car, and from Chania, 3 hours. Close to Hersonissos, is also Agios Nikolaos (about half an hour drive).