The seaside hamlet of Loutro is a beautiful unique village, built amphitheatrically in a closed and windless bay, offering complete tranquility, relaxation and quiet. The main feature of the area is that it is accessible only by boat or on foot. Thus, you cannot go there with a vehicle and there are no cars and motorbikes in the village.
Go to Loutro
It is located on the southern coast of Crete, between the village of Chora Sfakion and the settlement of Agia Roumeli. To get there, you should first head to Sfakia, or Sougia, or Paleochora with a rental car, and from there take a ferry-boat on the scheduled routes or hire a water taxi. The journey from Sfakia takes about 20 minutes.
Otherwise, you can walk for about an hour and half on the path that starts from Anopolis and ends at Loutro. The route is really beautiful and it will fill you with energy, compensating you by the amazing view towards the Libyan sea and the wild landscape.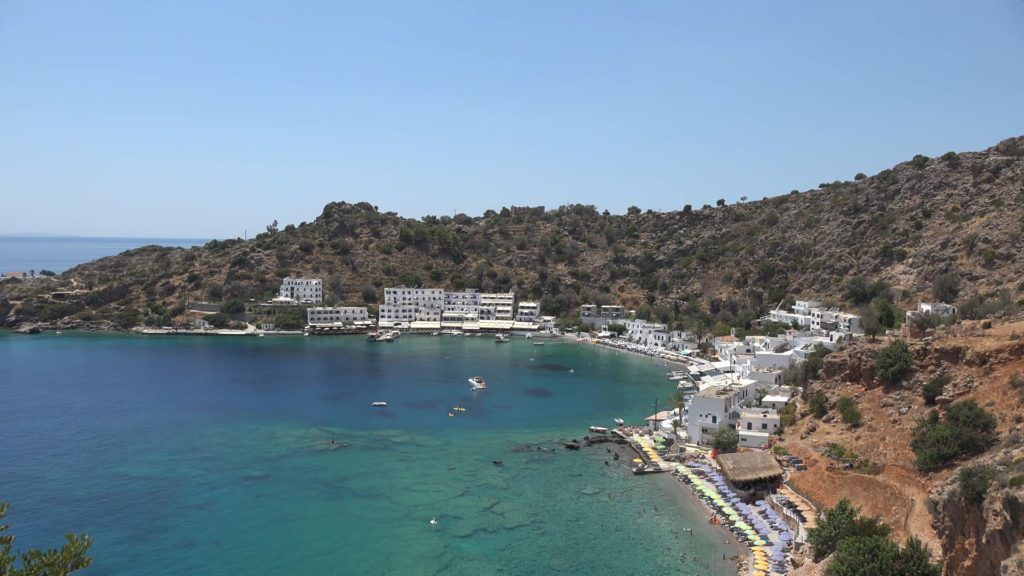 The village
Loutro took its name from the baths that were existed there and were supplied with water from the surrounding mountains. The remains of these are still preserved, while near to the village you can also see the ruins of the ancient city and port of Finikas, as well as the ancient cities of Aradena and Anopolis.
Loutro is a special place for those who looking for something different and relaxed on their holidays. So, in Loutro you will definitely not find hotel complexes with swimming pools, shops selling clothes or shoes, overcrowded streets, lively restaurants and clubs. But it is a small picturesque fishing village.
You will find beautiful and neat rooms to stay with spectacular views. There are also two – three cafeterias where you can enjoy your coffee or beverage during the day and a drink at night besides the sea. There are some traditional taverns, in which you will eat Cretan local dishes and fresh fish, enjoying the enchanting sunset. In addition, there is a mini market and a shop in which you can buy gifts or souvenirs.
Loutro has two excellent beaches, with crystal clear and turcoise waters, while there are large white pebbles on the beach. These beaches have sun beds and umbrellas, showers, changing rooms. In addition, if you like sea activities (bike, canoe, sup), you can rent one, and enjoy a stroll in the beautiful bay of the village or head to adjacent fantastic beaches. You can also do scuba diving in crystal clear waters by exploring and photographing the beauty of the seabed, or engage in underwater or regular fishing.
Trips from Loutro
Of course to get to other beaches, you can either walk through beautiful trails, or take ferryboats or yachts. So, two popular and beautiful beaches are Glika Nera Beach to the east and Marmara Beach to the west. Furthermore, other notable beaches in the area are the beaches of Finikas, Lykos, Pervolaki and Timios Stavros.
The village is ideal for hiking. So, there are amazing trails that you can follow, while admiring the view of the Libyan Sea. You can go to Agia Roumeli or Chora Sfakia via the European E4 path. Also it is well-worth to have a walk in the Aradaina Gorge, which leading to the magnificent Marmara Beach, enjoying your swim there and return to the village via E4, or explore the equally remarkable Imbros Gorge.
From Loutro, you can arrange day trips, either to the southernmost island of Europe Gavdos or to Agia Roumeli to cross the largest and most impressive canyon of Crete, the Samaria Gorge, or to the beautiful seaside villages of Sougia and Paleochora.